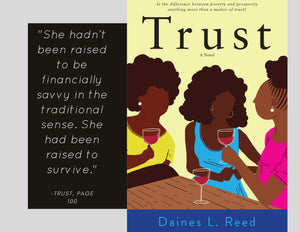 Trust: A Novel
Sale price Price $10.00 Regular price
In the face of a personal nightmare and barely earning enough to save herself, one brave woman makes a decision that will change her life and the lives of her closest friends.
Ruthena Gentry, unsure of what the future holds, and done with fighting the demons of her past, presses forward in faith.
Armed with little more than her Bible, her hammer, and her friends, she clings to the hope that it's never too late to rewrite her own story.
What awaits on the other side of her journey is more than she and her friends could have ever imagined.
As the unexpected arises, the women learn that trust runs deeper than dollar signs.
For Ruthena Gentry and her book club friends, problems with relationships, kids, and money bring new frustrations every day.
But when Ruthena is forced to flee her tumultuous marriage—and the lives of her friends come tumbling down, too— the ladies fear that a future fraught with turmoil is becoming inevitable.
Caught in the quicksand of daily survival and desperate for a change, Ruth and her friends make a bold move towards freedom. Ending the legacy of poverty that has plagued their families for generations will require epic faith and these friends are down for the cause. The problem is that time is not on their side and freedom is never free.
Don't miss Trust, the first novel of the Trust series by Daines L. Reed.
It's an Inspirational, soul-stirring story about sisterhood and resilience that will stay with you long after you read the last page. Grab your copy today.
 *****PURCHASES MADE ON THIS WEBSITE WILL BE SIGNED BY THE AUTHOR
Treat yourself! Get Book One and Book Two!
This title is also available on Amazon!