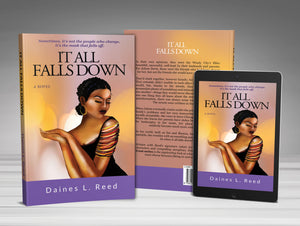 It All Falls Down
Sale price Price $14.95 Regular price
In their own opinions, they were the Windy City's Elite: beautiful, successful, well-kept by their husbands and parents. For Julene Davis, these were the friends who had been chosen for her, but not the friends she would have chosen for herself.
They'd stuck together, however loosely, for most of their lives. They certainly didn't confide in each other the way real friends would, but, thanks to the streets, they still managed to accumulate plenty of scandalous and intimate information about one another—things they would never discuss openly. And there was one thing they all knew about the streets: despite a little misinformation, there was always some truth to every rumor. The streets were reckless in that way.  
When Julene eventually cracks under the pressures of hiding her family's problems and her own insecurities, while remaining socially acceptable, she vows to leave Chicago and never return. When she learns her parents have stolen her identity and filed for bankruptcy in her name, her plans for independence suddenly become much more complicated.
As her world, built on lies and illusion, becomes increasingly unstable, she wrestles with an unsettling question: What will she do when it all falls down?
Written with Reed's signature talent for creating complex characters and compelling storylines, this third book in the Trust series is the captivating look at what happens when we must choose between fitting in and standing out.
This title will be available for purchase on August 7, 2023