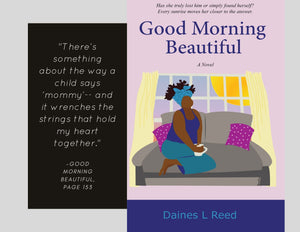 Good Morning Beautiful (Book 2)
Sale price Price $14.95 Regular price
What causes a perfectly rational, mature woman to lose herself in a perfectly irrational, immature relationship? 
For Cynthia Thomas, a single, thirty-something woman, it could be insecurity. It could be loneliness. It could be something deeper.
Like a woman who has waded so far into the ocean she's lost sight of the shore, Cynthia fears she's gone too far with Victor.
She fears she's wasted too many of her good years on a bad relationship.
She's no closer to becoming a wife and a mother, and as she approaches her 40th birthday, her regrets threaten to destroy her.
Good for them. But when will things be good for me?
Cynthia Thomas has spent a lifetime on the sidelines watching everyone else's lives blossom with marriage and babies. All she's ever wanted was to experience those joys for herself.
But, when she realizes she's spent too many years invested in one toxic relationship after another, she fears she may not deserve the true love she craves.
Now, months before her 40th birthday, with a string of failed relationships in her past and a habit of submitting to her own inner demons, she's reached a crossroads.
She'll have to dig deep to find discernment and self-love. Until now, nothing else has worked, time is ticking, and her chance for real love and motherhood depend on it.
This heartfelt, honest, and introspective sequel to Daines Reed's Trust will leave you laughing, crying, and rooting for a happily-ever-after. 
 *****PURCHASES MADE ON THIS WEBSITE WILL BE SIGNED BY THE AUTHOR

Review
Reviewed by Edith Wairimu for Readers' Favorite
Daines L. Reed's heartfelt novel, Good Morning Beautiful, follows the life of Cynthia Thomas, a hospital administrator with a past characterized by failed relationships and who is currently involved with a selfish, evasive man. Cynthia has always longed to have a family of her own. Now, as she turns forty, the desire is even greater. However, Victor, the man she is in a relationship with, does not share her vision. Constantly in fights with his child's mother, Victor does not want to be in a relationship. He strings Cynthia along and, contrary to his undependable nature, Cynthia proves to be faithful, loyal and reliable. But not forever as Cynthia begins to cultivate a deeper sense of appreciation for herself and starts seeing Victor for who he really is.

Imperfect in some ways, Cynthia is a realistic character. She is ready to continue growing and change her perspective on how she has viewed relationships and her opinion of them. As the main character, her thoughts, which do not appear in her conversations with other supporting characters, are expressed, which further develops her role. Good Morning Beautiful also effectively explores the theme of sisterhood through Cynthia's relationship with Julene, a faithful friend who sticks with Cynthia through thick and thin. Cynthia's mother is comical and introduces humor into the plot through the scenes where she appears. Good Morning Beautiful by Daines L. Reed is an amazing sequel that will resonate with readers who appreciate realistic characters and a story that inspires growth.
 Treat yourself! Get Book One and Book Two!
  
This title also available on Amazon!